The Office, Part I
By Nadine McCrea | May 16th, 2010 at 9:30am
We've been steadily working at the office, AKA The Creative One's former bedroom. It's a small space, but I think it will be great for an office space.
The previous tenants had painted the room a (yucky) blue. When I spent most of April some time in that space doing our taxes, I noticed it was very dark. It was SO dark (how dark was it?) that I had to put a light on AT NOON, despite the fact that the room faces west and has a large window.
Here's some BEFORE shots: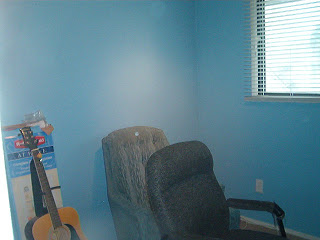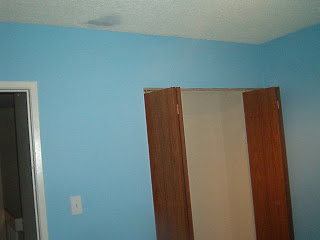 Yes, the room came complete with faux woodgrain closet doors, paint on the ceiling (like, seriously, whatever dude painted this room before!) Why bother doing a [email protected]$$ed job? Drives me crazy. Anyway, back to the topic at hand...
So I thought that yellow would be a good choice for the walls. Lots of bounce. Our office furniture is cherry-coloured and the carpet is a neutral berber. Yellow, it is. But which yellow? Yellow is a difficult colour to pick. I didn't want "nursery" or "egg yolk". The biggest obstacle here is that I always, and I mean always paint my living rooms yellow. No matter what I want to do, I always end up going with yellow. So my family is a little sick of yellow. Even Andrew, The Creative One, weighed in on the debate with two thumbs down and HE doesn't even live here anymore! The Horsey Girl was okay with yellow, however, and she wanted me to go with Benjamin Moore Hawthorne Yellow. It's a deep rich historical colour. It is also the colour of our living room from two houses ago. That house was 80 years old and huge white-painted cove moldings and baseboards. Totally a different concept than my current 70s townhouse. But the Horsey Girl wins again. And so we painted.
I cut in, and Jack (rock 'n) rolled.
Here's the DURING: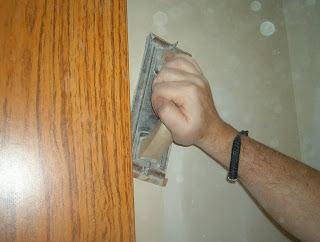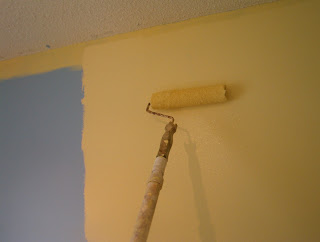 Notice the blue paint on the switchplate too - you're supposed to remove it before you paint the room, previous tenant dorks!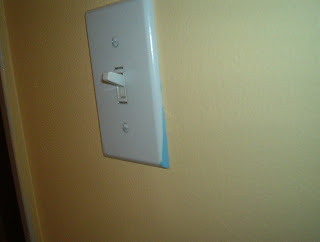 And when it was all finished I stepped back and said, "I hate it." It was a yellow nightmare. And because Jack is, and has been for 25 years, my biggest support system, he said, "Tough. Live with it because I am NOT painting it again." Wow. Really supportive.
So I am living with it.

I will even learn to love it. Maybe. One day.

Stay tuned for Part II.

Sorry to leave ya hangin'!


Nadine
You Might Also Like
Comments (0)
You could be the first person to comment!